My old Master, Yousaku Murai biography:
1919 - 2012
Born in Tokyo, Japan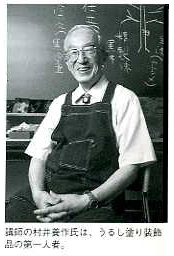 1941
Graduated from Tokyo Bijutsu Gakkou (Tokyo Art School)
Kogeika Shikkoubu. Murai studied under Shisui Rokkaku, Gonroku Matsuda, and You Isoda.
1942-50
Worked at Riken Denka Kougyo Corporation in Shizuoka, Japan under Hiroshi Ikukoma and Naoji Terai.
1950-59
Shizuoka-shi Kogei Shidoujo (Craft Instruction Center of Shizuoka City)
1951
Sep-Oct Participated in Urushi Technical Instruction in Burma.
1959-75
Worked at Hitachi Seisakujo.
1968-86
Instructor at Tokyo Geijutsu Daigaku Bijyutsu Gakubu
1956-2003
Belongs to Nihon Craft-Design Kyokai (Japan Craft-Design Society)
1975-current
Opened Murai Urushi Koubo in Tokyo, Japan
Murai also teaches Urushi at Odakyu Minami Rinkan Studio, Kamakura Studio, and Tokyu BE Studio.
Publications:
"Hon Makie" Instruction Video 1998-99 Sony Family
"Murai Yousaku Beiju Kinen Shitsugei Sakuhinshu" 2007
Selected Exhibitions:
1971-95
Nihon Craft-Design Kyokai Exhibition (Japan Craft-Design Society)
Craft Mokkouten in Kamakura (10 exhibitions)
Sekai Design Exhibition (World Design Exhibition)
Murai Urushi Koubo Exhibitions
Award:
2005
Nihon Shikkou Kyokai Yushu Ginou Shou (Japan Urushi Society Excellence in Technique Award)