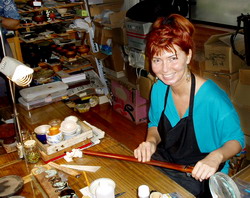 .JAPANESE LACQUER ARTIST.
.GABRIELLA BALOGH.
If you wish to receive information on what I am currently working on, or about my exhibitions and lectures please send me an email (and I will add you to my mailing list). I will also inform you of other interesting events for Japanese handycrafts but only when I think you will really enjoy the programme.
Please, write to the "subject": "for Gabriella's Mailing list"